Ruby Stepsister is Vicky Broomstick's friend and accomplice. She is the granddaughter of one of Cinderella's wicked stepsisters.
Official Description
To avoid facing risks, Vicky always asks Ruby to do the "dirty work" for her: every time Ruby accepts and carries out Vicky's evil plans against Rose's team... if this can turn out as a good chance to meet Hawk!
Personality
Ruby is silly, goofy and completely infatuated with Hawk SnowWhite. She'll do anything to get a kiss from him. When she's not thinking about him(which is rare) she seems like a nice girl with a stronger moral compass than Vicky and Cyrus. However, when it concerns Hawk, all her good sense and brains disappear. She can also be selfish as she helped Vicky summon dangerous fairy tale villains so she could have a chance of kissing Hawk.
Appearance
Ruby has light skin with pale pink lips, lilac eyeshadow and green eyes, and short light blue hair.
More coming soon...
Magical Abilities
Cleaning Magic: With a wave of her wand, Ruby can clean any mess in seconds. Objects move back into place and broken objects are repaired.
History
Ruby laughs hysterically after Rose plummets into the courtyard.
After Hawk saves Rose, Ruby throws herself from her dragon so Hawk will rescue her. He doesn't even hear her. She lands on Cyrus's dragon. Later, she, Cyrus and their dragon is hit by one of Vicky's spells so the latter can win.
Vickey, Ruby and Cyrus spy on Rose's team from the bushes. Ruby begs Vicky to turn her into a frog so that Hawk will kiss her.
Ruby voices her concerns about Vicky joining the Giant as he is a very dangerous creature.
Ruby helps Puss in Boots after a starstruck Rose tackles him. She uses her magic to repair his art gallery and in payment, Puss gives her his favourite payment.
Ruby is wary of letting the Shortbread Witch back into the Fairy Tale Land as she is a deadly foe. Vicky tells her that with the witch's help, they will be able to do whatever they want, including dating Hawk which is all the convincing Ruby needs.
Ruby wants her family to be recognized as a villain so for her villainous plan she goes to her grandmothers carrying the Brootch of Dragon Control in her pocket while traveling to Earth and after that she takes her grandmothers and Rose's mother Clara to Fairy Tale Land. Ruby's grandmothers are taking Clara hostage. Ruby and her grandmother tries to defeat Rose, Travis, Joy and Lingling. Ruby's grandmother uses Cauldron Magic and fight along with Ruby against Rose. And Ruby uses the Brootch of Dragon Control to control one dragon.
Trivia
Gallery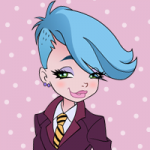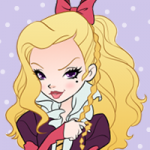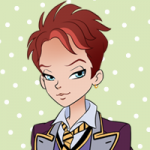 Community content is available under
CC-BY-SA
unless otherwise noted.