Finn Whale is a recurring character and a student at Regal Academy. He is the grandson of the whale from Sinbad the Sailor.
Overview
Finn Whale is the grandson of the original whale of Sinbad. Always slow and clumsy, he does nothing to hide his nature.
Appearance
Finn Whale is an anthropomorphic whale with dark blue skin and three fin-like fingers. In his human form, he wears a whale pin. In his true form, he is a large blue whale, bigger than a dragon.
Personality
Finn is slow, friendly and soft-spoken.
Abilities
Ocean Magic: seen in The Magic Fair, Finn can create large amounts of water with his wand.
History
In "A School for Fairy Tales", Finn Whale is seen with the other students.
In "Rose's Fairy Tale Collection", Rose tries to show him her fairy tale collection but he isn't interested in seeing things he sees every day. Later, Rose takes his magic pin while he is on his dragon. Without his pin, he returns to his original form and his dragon throws him into the sea. Unfortunately, Finn was holding the shrinking sugar for the whole class and the sea life started to shrink.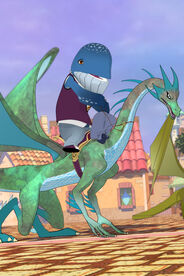 Community content is available under
CC-BY-SA
unless otherwise noted.